The name is an integral part of the personality. And when we speak about the Ukrainian culture, it should be added that the Ukrainian name of person also gives him or her a holy defender, a patron, to whom one can always turn in a difficult moment.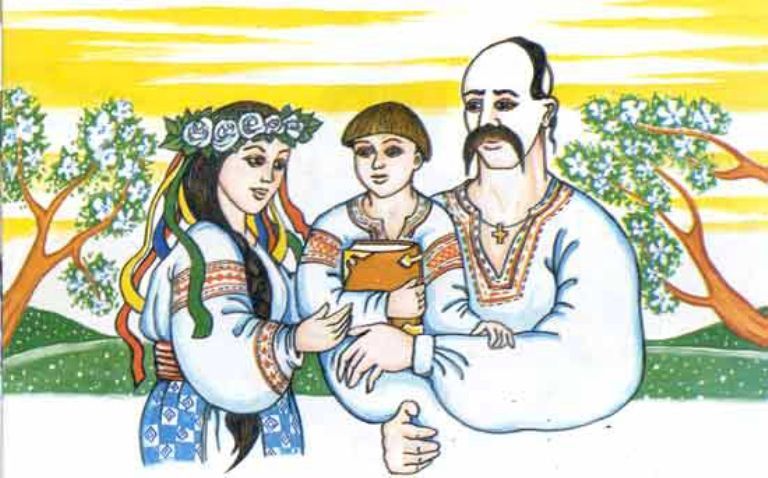 So, the parents have to make the choice of the name and they should do it really carefully, because we should understand, that the person will hear his or her own name many times in everyday life.
Traditional Ukrainian names were the names of saints or biblical characters that had Jewish, Latin or Greek origin. In addition, in Ukrainian culture there are the names of the Scandinavian origin, which brought together the Varangian knights. Such names, for example, were worn by the first princes and their warriors.
Traditional Ukrainian male names and their meaning: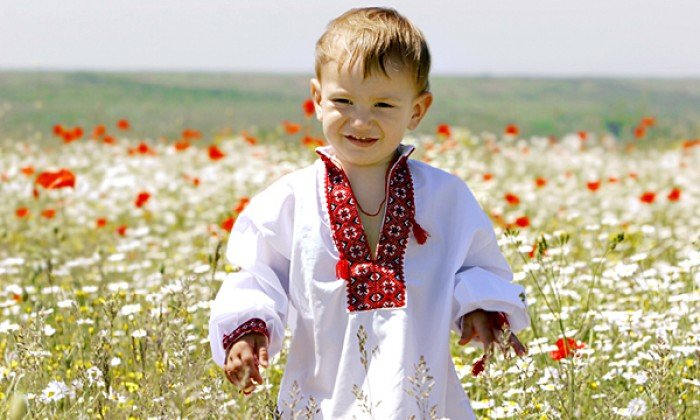 Anatoliy (Анатолій) – Sunrise
Andriy (Андрій) – Courageous
Anton/Antin (Антон/Антін) – From Roman clan name 'Antonius'
Artem (Артем) – Unhurt
Bohdan (Богдан) – Given by God
Bohuslav (Богуслав) – Glorifying God
Borys (Борис) – Successor
Boryslav (Борислав) – Fighting for fame
Danylo (Данило) – God is my judge
Davyd (Давид) – Favorite
Denys (Денис) – Belonging to Dionysus
Dmytro (Дмитро) – Belonging to Demeter
Fedir (Федір) – Gift from above
Georgiy (Георгій) – Farmer
Glib (Гліб) – Hair of God
Grygoriy (Григорій) – Watchful
Igor (Ігор) – Protected
Illya (Ілля) – My God is He
Ivan (Іван) – God is gracious
Kostyantyn (Костянтин) – Constant
Kuzma (Кузьма) – Universe
Kyrylo (Кирило) – Masterful
Leonid (Леонід) – Son of lion
Maksym (Максим) – The greatest
Marko (Марко) – God of war
Matviy (Матвій) – Given by God
Mykhailo (Михайло) – Like God
Mykola (Микола) – Victory of people
Mykyta (Микита) – Winner
Nazar (Назар) – From Nazareth
Oleg (Олег) – Holy
Oleksandr (Олександр) – Protector of man
Orest (Орест) – He who stands on the mountain
Oleksiy (Олексій) – Defender
Ostap (Остап) – Steady
Panas (Панас) – Immortal
Pavlo (Павло) – Rare
Petro (Петро) – Stone
Pylyp (Пилип) – Fond of horses
Roman (Роман) – Of Rome
Rostyslav (Ростислав) – To increase glory
Ruslan (Руслан) – Lion
Sergiy (Сергій) – From Roman clan name 'Sergius'
Stepan (Степан) – Corona
Svyatoslav (Святослав) – One who worships the light
Taras (Тарас) – Son of God Poseidon
Tymofiy (Тимофій) – Honoring a god
Vasyl (Василь) – Royal, kingly
Vitaliy (Віталій) – Vital
Vladyslav (Владислав) – Holding glory
Volodymyr (Володимир) – Of great power
Yakiv (Яків) – Seizing by the heel
Yaroslav (Ярослав) – Glory of the sun
Yevhen (Євген) – Noble
Traditional Ukrainian female names and their meaning: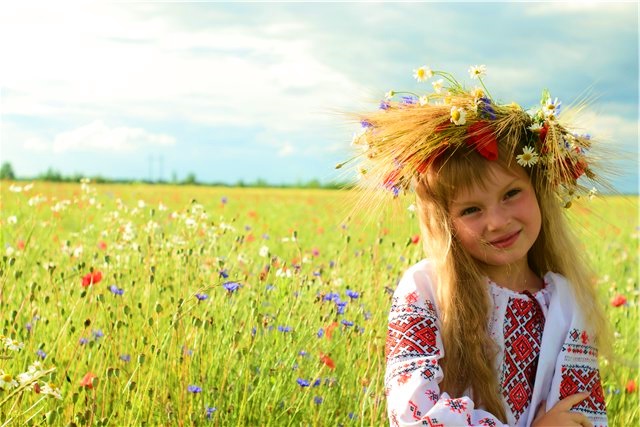 Alina (Аліна) – Light
Alla (Алла) – Handywoman
Anastasiya (Анастасія) – Resurrection
Bohdana (Богдана) – Given by God
Bohuslava (Богуслава) – Glorifying God
Bozhena (Божена) – God's
Daryna (Дарина) – God's gift
Ganna (Ганна) – Favor, Full of grace
Galyna (Галина) – Greek Calmness
Inna (Інна) – Fast-flowing stream
Iryna (Ірина) – Peace
Ivanna (Іванна) – God is gracious
Kateryna (Катерина) – Pure
Khrystyna (Христина) – Follower of Christ
Kseniya (Ксенія) – Hospitality
Larysa (Лариса) – Sea-gull
Liliya (Лілія) – Lily
Lidiya (Лідія) – Woman from Lydia/Beautiful
Lyubov (Любов) – Love
Lyudmyla (Людмила) – Nice to people
Mariya (Марія)/ Marichka (Марічка) – Beloved/Star of the sea/love
Maryna (Марина) – Of the sea
Myroslava (Мирослава) – Glorious
Nadiya (Надія) – Hope
Nataliya/Natalka (Наталія/Наталка) – Blessed
Nina (Ніна) – Dream, dreamer
Oksana (Оксана) – Foreigner/Hospitable
Oleksandra (Олександра)/Olesya (Олеся) – Protector of man
Olena (Олена) – Sun light
Olga (Ольга) – Holy
Polina (Поліна) – Little
Ruslana (Руслана) – Lioness
Sofiya (Софія) – Wisdom
Solomiya (Соломія) – Peace
Svitlana (Світлана) – Pure, light
Tamara (Тамара) – Palm tree
Tetyana (Тетяна) – From Roman clan name 'Tatius'
Valentyna (Валентина) – Healthy, strong
Vasylyna (Василина) – Queenly
Victoriya (Вікторія) – Victory
Vira (Віра) – Faith
Vitaliya (Віталія) – Vital
Vladyslava (Владислава) – Holding glory
Yaroslava (Ярослава) – Fervent worship of God
Yelyzaveta(Єлизавета) – My God is abundance