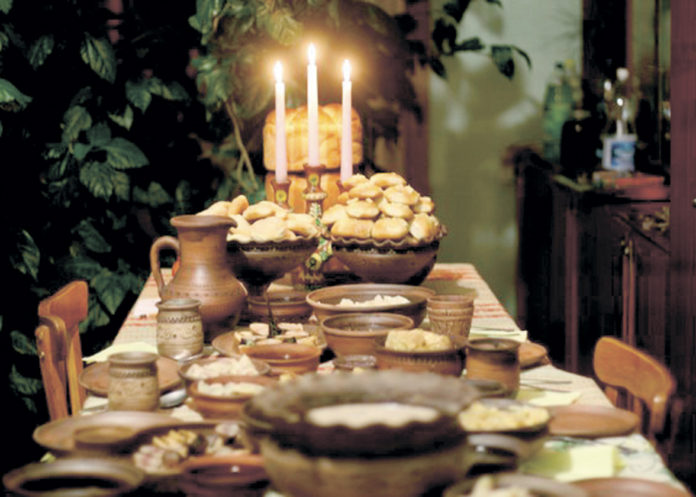 Soon, we expect for the brightest holiday in our calendar – Christmas. Unlike most other countries in the world, Ukrainians celebrate this holiday, following many eternal traditions and customs. In our time, young families take from their parents the habit of cooking kutya and sitting down at the festive table when the first star appears in the sky. Children also continue the good tradition from their ancestors – caroling, which brings joy and fun to every home.
According to the ancient Ukrainian folk tradition, the Supper on the Christmas Eve gathers all the family. You can't be late in the table and it's very important. On this day our ancestors didn't eat anything until the evening. And only with the first star, which, according to the biblical legends, means the good news of the Jesus Christ birth, the Ukrainians began a festive meal.
Besides, Holy supper falls on the last day of the Christmas (Pilipiv) fast, so, all the dishes that prepare the hostess for the holiday are lenten. But in spite of this it is called "a rich supper", because the table consists of 12 dishes this evening.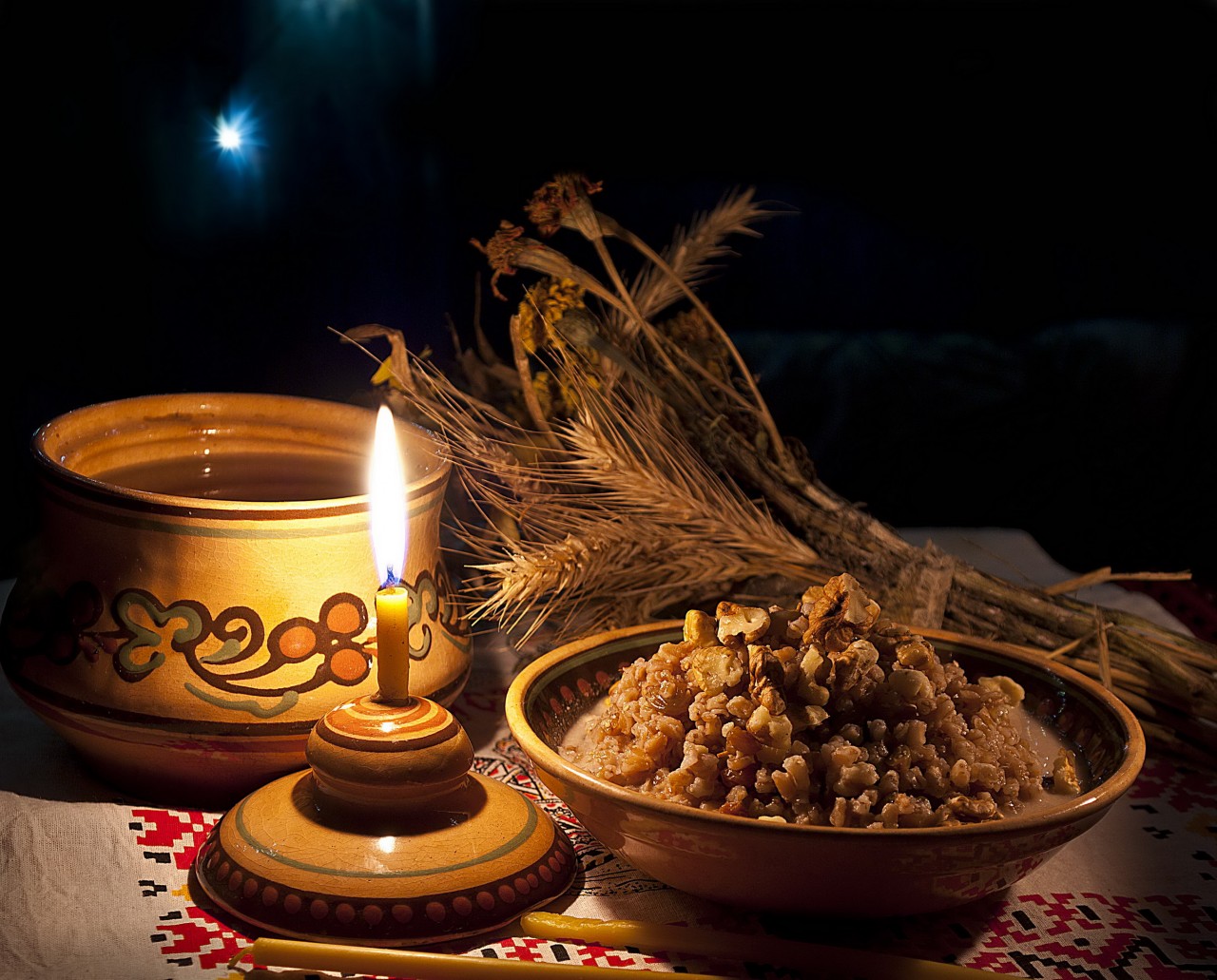 The main Christmas dish – Kutya. Kutya is a ritual memorial dish (special cereal porridge).
Ingredients:
250 ml (1 cup) wheat kernels, cleaned and picked over
1.5 – 2 litres (6-8 cups) water
60 ml (1/4 cup) honey, dissolved in 125 ml (1/2 cup) boiling water
60 ml (1/4 cup) poppy seed
60 ml (1/4 cup) chopped walnuts
Directions:
1. Spread the wheat on a baking sheet and place in a 120° C (250° F) oven to dry for an
hour.
2. Wash the wheat in cold water and soak overnight.
3. The next day, bring 6 to 8 cups of water to a boil with a pinch of salt and simmer the
wheat for 3 to 4 hours, until the kernels burst and the liquid has thickened.
4. Meanwhile, scald the poppy seed and drain it. Place in a small saucepan, cover again
with water and simmer for 3 to 5 minutes. Drain, and put through a food grinder twice.
5. Combine the honey and boiling water. Stir the honey mixture, poppy seed and chopped
walnuts into the cooled wheat mixture. Refrigerate.
6. Serve cold.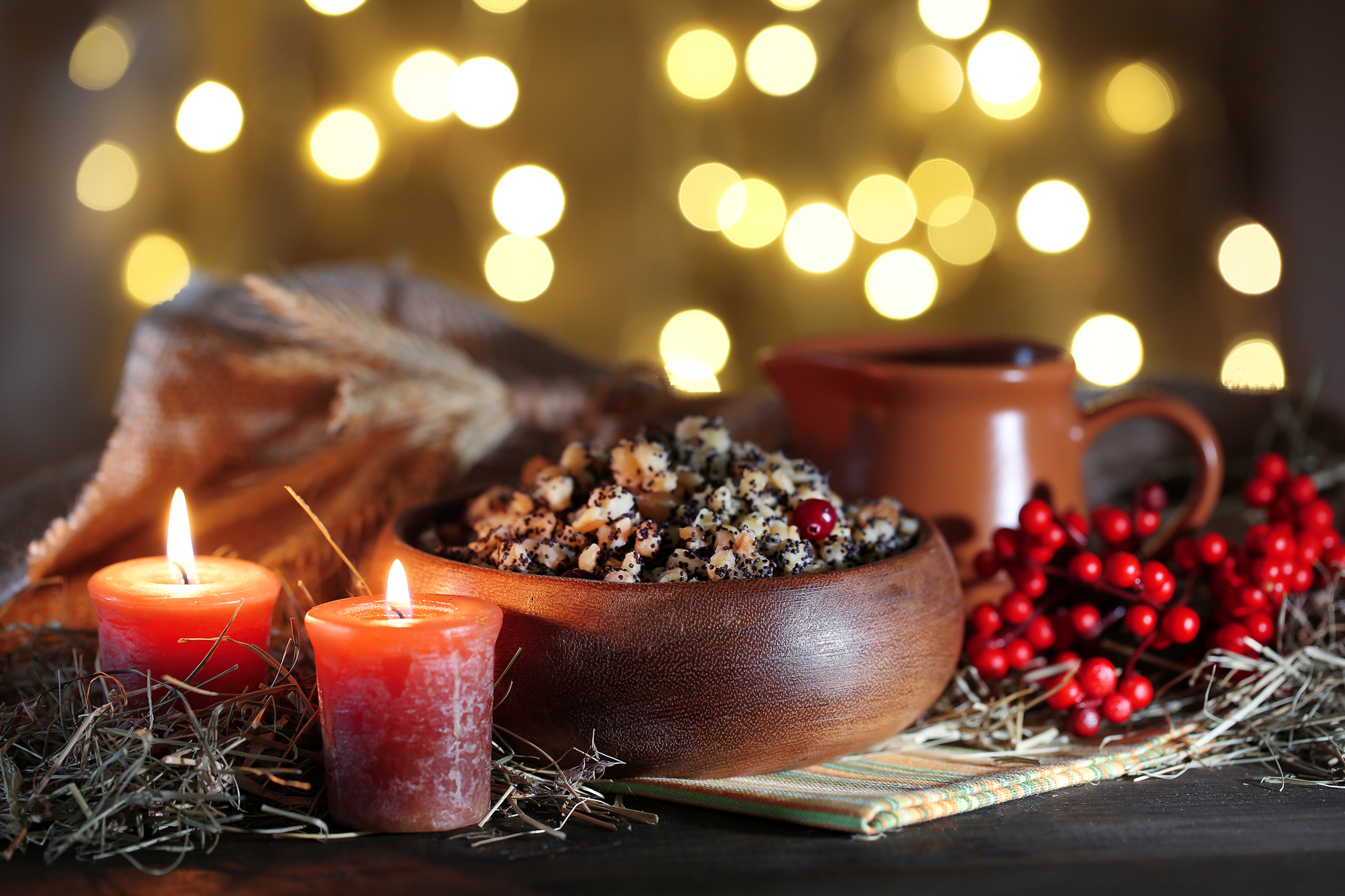 The second dish after Kutya is a thick stewed fruit- from pears, apples, and plums. Also, someone prefers to add there a raspberry or cherry. Also on the table is served lean potato salad with onions, boiled and milled through a meat grinder bean, homemade bread, pies and a fruit jelly.
Traditionally, at the Christmas Eve, the table is decorated with 12-th dishes to "cater" every month in the new year.
A list of traditional dishes for the Christmas Eve:
Kutya
Lean borsch (with "ears", mushrooms and prunes)
Mushroom soup
Vareniks(with plums, pears, cabbage or potatoes)
Golubtsi (with millet, potatoes, buckwheat, with rice and mushrooms etc.)
Marinated herring
Marinated mushrooms
Fried or poured fish
Stewed cabbage (with mushrooms, with beans)
Bean
Stewed fruit
Pampushki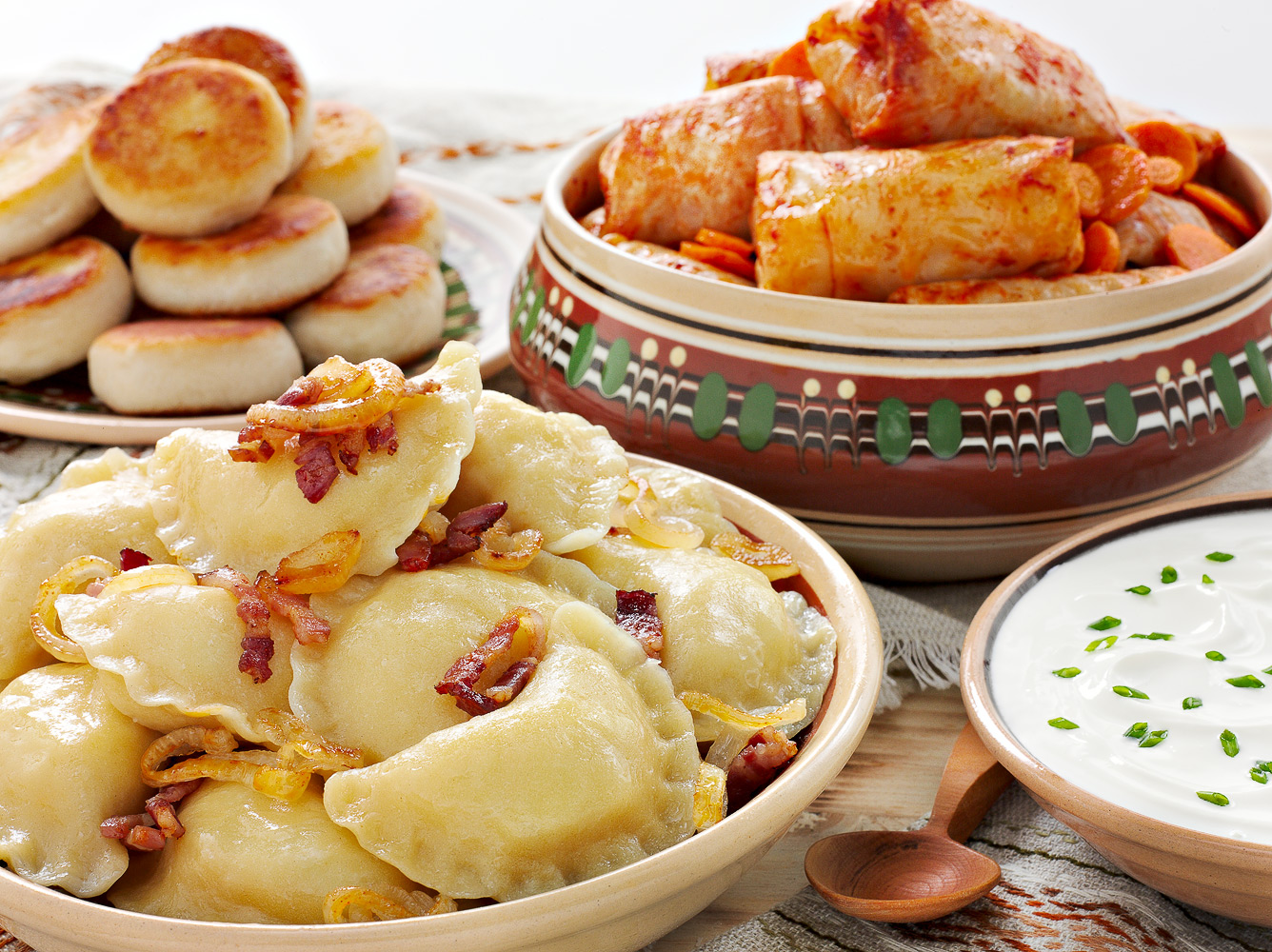 On the festive table can also be:
Carrots, beets, cabbage, apples, pears, plums
Salads (from beets and peeled herring, from pickled cucumbers, cabbage and onion, from white beans etc.)
Stuffed beets
Shukhi
Cabbage soup stuffed with oil and millet
Ancient Goulash
Lean potato pancakes
Peanut porridge
Banosh
Baked fish with mushrooms
Fish Cake
Kalachi
Pancakes (Buckwheat)
Cheesecakes
A festive pumperberry
Culinary Features of Regions:
In Volhynia Kutya is served both dense and liquid. The Christmas table consists of borsch with mushrooms and potatoes in "uniforms".
In Galicia, the kutya is thick, like a porridge, and generously is filled up with nuts and poppy.
In Ivano-Frankivsk region cook "draplyky" – dumplings with finely chopped herring and fried onions. This dish eat with a leek borsch with mushrooms.
In Zakarpattya, to the Holy dinner cook fasting potato pancakes (without eggs). Also cook "halambets" – sausages which made of corn porridge with fried on the oil onion.
In Bukovyna, halva is added to the Kutya.
In Lugansk region, Kutya is usually cooked from rice. Also, Ukrainians from this region bake a lot of pies with different fillings.
Ukrainian pampushky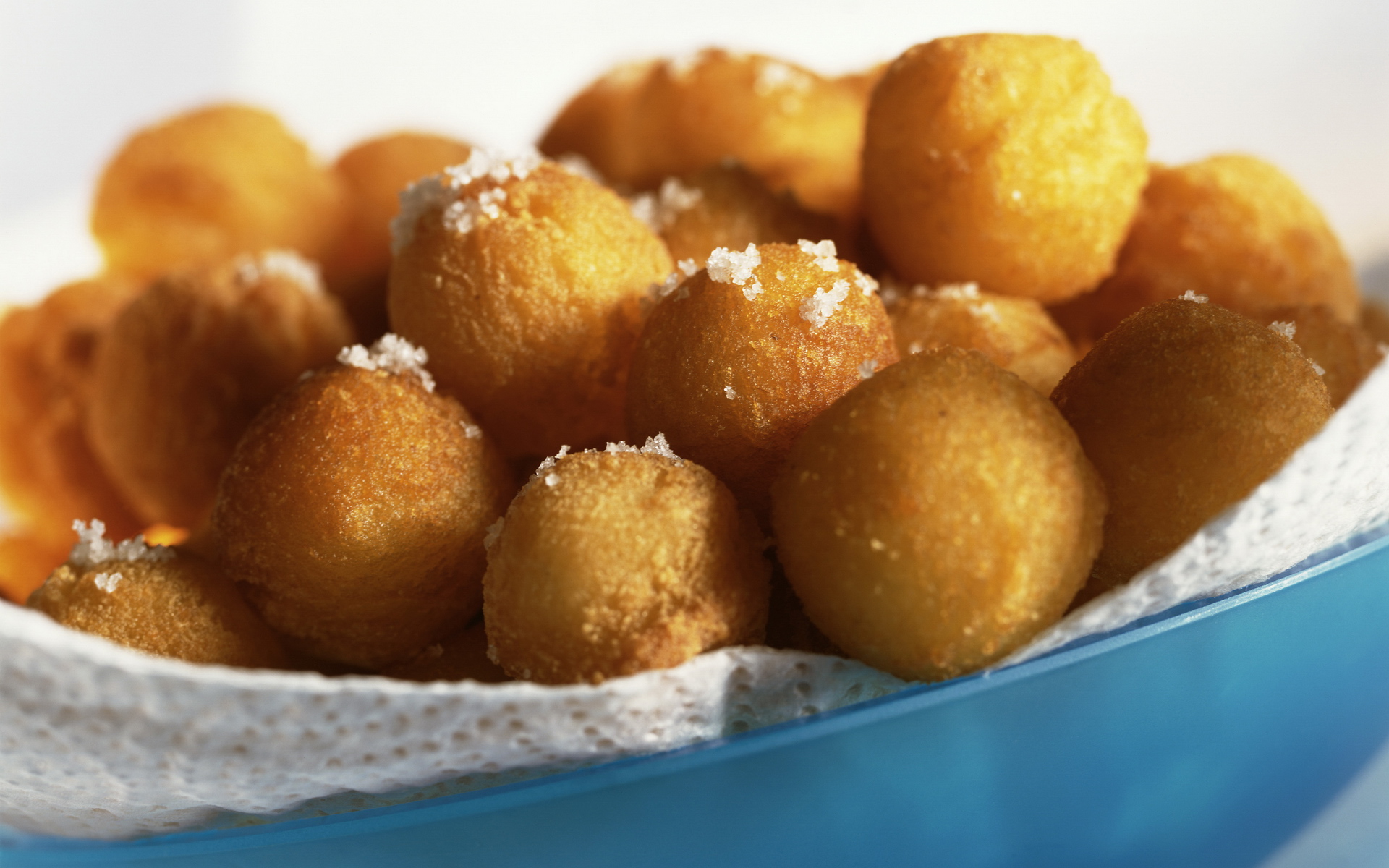 These yeast-raised fried rounds of dough have been a part of Ukrainian celebrations for centuries. These are recipes for pampushky called stolitni (hundreds of years). This light and delightful food did not start out as a dessert, but as a dish to eat on its own. The dough was fried and tossed with mashed garlic and oil–a version is now used as an accompaniment to soups or as an appetizer. Pampushky for Sviata Vechera are sweet doughnuts dusted with sugar and filled with rose preserve. The dough is light and airy and the rose preserve perfumes bring back memories of summer.
Ingredients:
2 tablespoons sugar
1/2 cup water
2 envelopes dry yeast
3/4 cup milk
5-6 cups flour
1/4 pound unsalted butter
1/2 cup sugar
2 eggs
3 egg yolks
1 teaspoon salt
1 teaspoon vanilla extract
1 lemon zest
powdered sugar
1 cup rose preserve, raspberry jam or any dry fruit preserve
Directions:
Combine sugar and water, sprinkle with yeast, and let stand until soft. Heat milk to lukewarm then add milk and 3/4 cup flour to yeast mixture. Beat well, cover, and allow to rise until light and bubbly, about 10 minutes. Cream butter and sugar. Beat eggs and egg yolks and combine with sugar/butter mixture, beating thoroughly until eggs are pale
white. Grate a lemon on a fine grater until all yellow is rubbed off and add lemon zest, vanilla, and yeast mixture to egg/butter mixture. Mix in 4 cups of flour. If dough seems too loose, add a little more flour: however, dough should be soft. Knead by hand for about 10 minutes. Cover with a damp towel, set in a warm place until double in bulk. Punch down, knead a few times, and allow to rise again until doubled. Divide dough into 4 parts. On a lightly floured surface, roll one part into a rectangle 1/4 inch thick. Turn over onceor twice. Dust with flour sparingly. Place 1 teaspoon of rose preserve at evenly spaced intervals on the dough, or with a 2 1/2 inch cutter gently form impressions and place filling in each. Roll out another portion of the dough to the same thickness and gently cover the first, overlapping a little. (Filling will show through). Cut circles with cutter. Place them on a lightly floured cookie sheet and allow to rise until double in size. Repeat until all the dough is used, rolling out scraps last. Heat oil or shortening to 375 degrees F. in a deep fryer or wide skillet. Test temperature by frying a piece of bread; it should bubble and turn golden quickly. Fat should not be smoking. Fry 5 to 6 pampushky at a time. Do not crowd, since this lowers the temperature and doughnuts absorb too much grease. When one side is golden, flip with a spoon to fry other side. Dough will puff up in the frying. Perfect pampushky have a white ring around the middle and are light as air. Drain on paper towels. When slightly cooled, sprinkle with powdered sugar.
Borschch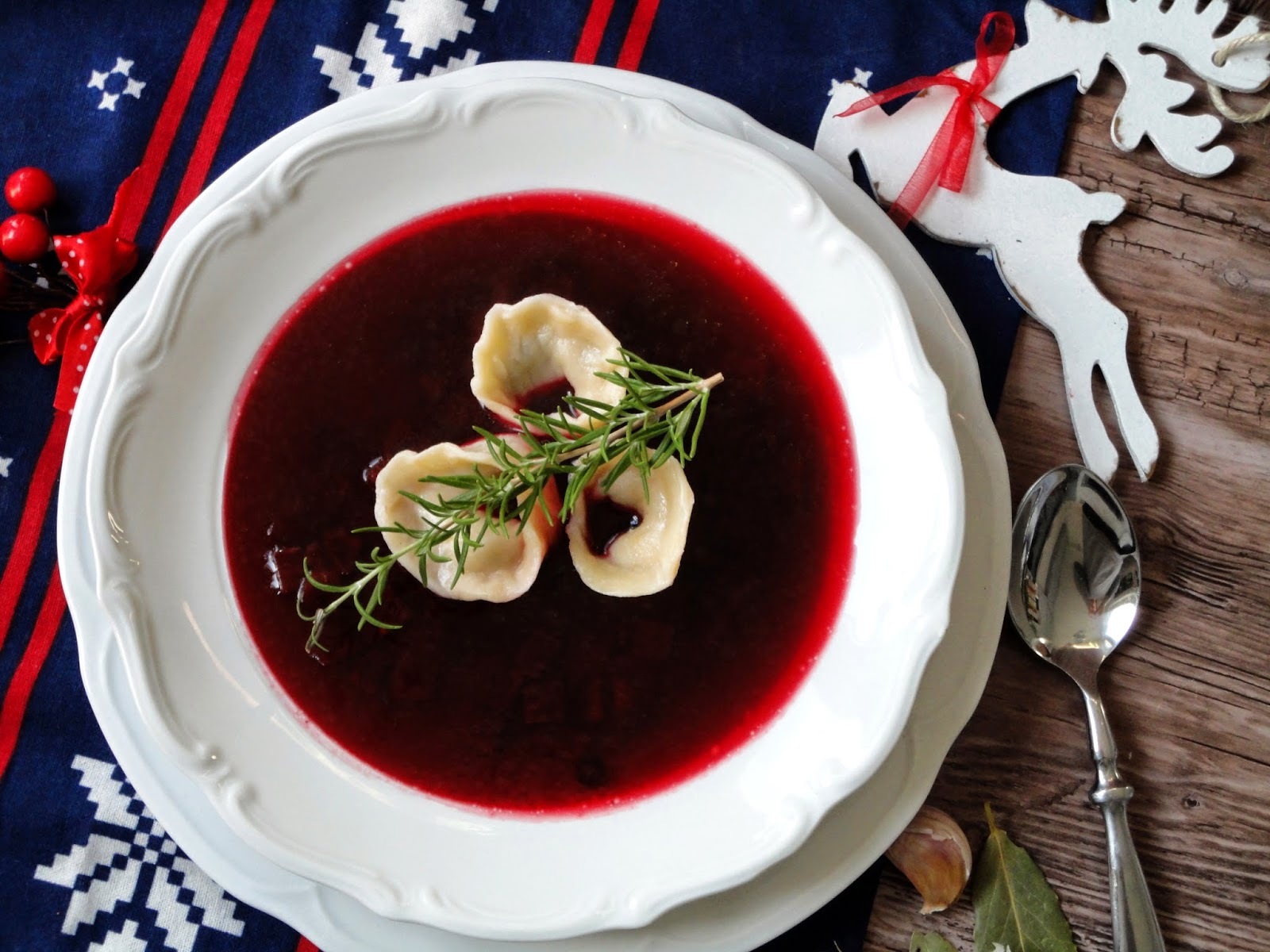 Traditionally, borshch is served at Christmas as one of the 12 meatless dishes on Ukrainian Christmas Eve. If you use vegetable stock, this recipe can almost claim to be completely vegetarian, except for the small amount of dried clam broth (ingredient #10) found on the Mott's Clamato Juice ingredients list.
Ingredients:
• 3 – 4 medium-sized beets (including stems and leaves)
• 1 large bottle (1.8 Liters or 7-1/2 cups) Mott's Clamato Juice – Extra Spicy or The Works
• 1 Liter (4 cups) chicken or vegetable stock
• 2 large carrots, peeled and chopped
• 3 medium potatoes, peeled and diced
• 1/4 to 1/2 head green cabbage, finely chopped or shredded
• 1 large onion, diced
• 1 can tomato soup
• 1/3 cup chopped fresh or frozen dill (if using dried dill, use less)
Directions:
1. Peel the beets and cut off the stems and leaves. Thoroughly wash the beet stems and leaves and chop them into 1" pieces. Add the stems and leaves to a large soup pot.
2. Use a food processor or a cheese grater to grate the beets and add them to the soup pot.
3. Add all of the other ingredients and heat the soup on medium high heat until it boils. Reduce the heat to low and simmer the borshch for 45 minutes to 1 hour.
4. Serve borshch with a dollop of sour cream or a swirl of whipping cream and a splash of vinegar.
To Freeze Borshch

Once cooled, pour the desired amount of borshch into freezer bags. Lay the freezer bags on their side and freeze the bags on a flat surface. Or freeze desired amounts in freezable, lidded containers. Thaw to room temperature before heating.
To Can Borshch

Ladle hot/warm borshch into sterilized canning jars, leaving 1/2″ headspace. Wipe jar rims and add lids. Process jars in a boiling water bath for 10 minutes. Remove the jars and cool on wire racks. If any of the jars do not "pop" to seal, then store those in the fridge and eat those first.
Vushka
This recipe will yield filling for about 100-150 vushka (depends on size of dough square,
and how much filling put in each).
Ingredients:

• 1 small container dried mushrooms (1 oz. variety pack of wild, woodear, or anything
else available; this will really improve the flavor and aroma of final mixture)
• 1 small container diced onions (about 5 oz) or equivalent in freshly chopped onion
• 2 packets McCormick mushroom gravy mix (or your own mix of seasonings to taste)
• 2 containers sliced button mushrooms (6 oz each)
• 2 containers sliced baby bella mushrooms (6 oz each)
• 2 container sliced shitaki mushrooms, or stir-fry mix (4-6 oz)
• Salt and pepper to taste
Note: You can vary mushroom types and quantities to taste
Directions:
1. Reconstitute dried mushrooms (pour boiling water over them in bowl and soak for 2-5 minutes; arrange cheesecloth in a strainer and pour mushrooms and liquid through it into a bowl; rinse mushrooms under cool water, pat dry; liquid can be strained again through cheesecloth and reserved for another use like borshch – can be frozen too)
2. Chop onions more finely in food processor; saute in olive oil until golden in two
pans
3. Process sliced mushrooms and reconstituted dried mushrooms in batches in food processor, and sauté in the two pans with the onions
4. Mushroom gravy mix can be added at beginning, with button mushrooms, and mixed in well (one packet to each pan); can be added at end too, but it thickens the mixture and absorbs the mushroom liquid better if added towards beginning
5. Cook mixture until no liquid is apparent
6. Season to taste, allow to cool
Assembly:
Use varenyk dough; cut in squares about 2×2"; fill with filling; fold dough over to make a triangle and seal (as varenyk); bring two corners in and seal tips against each other, to look like tortellini; two vushka can be intertwined to make a 'shchastia' (good luck) for
whomever finds it in their borshch; cook, freeze, thaw as varenyky; serve in borshch.
Mushroom Sauce for Christmas Eve (Pisnyi)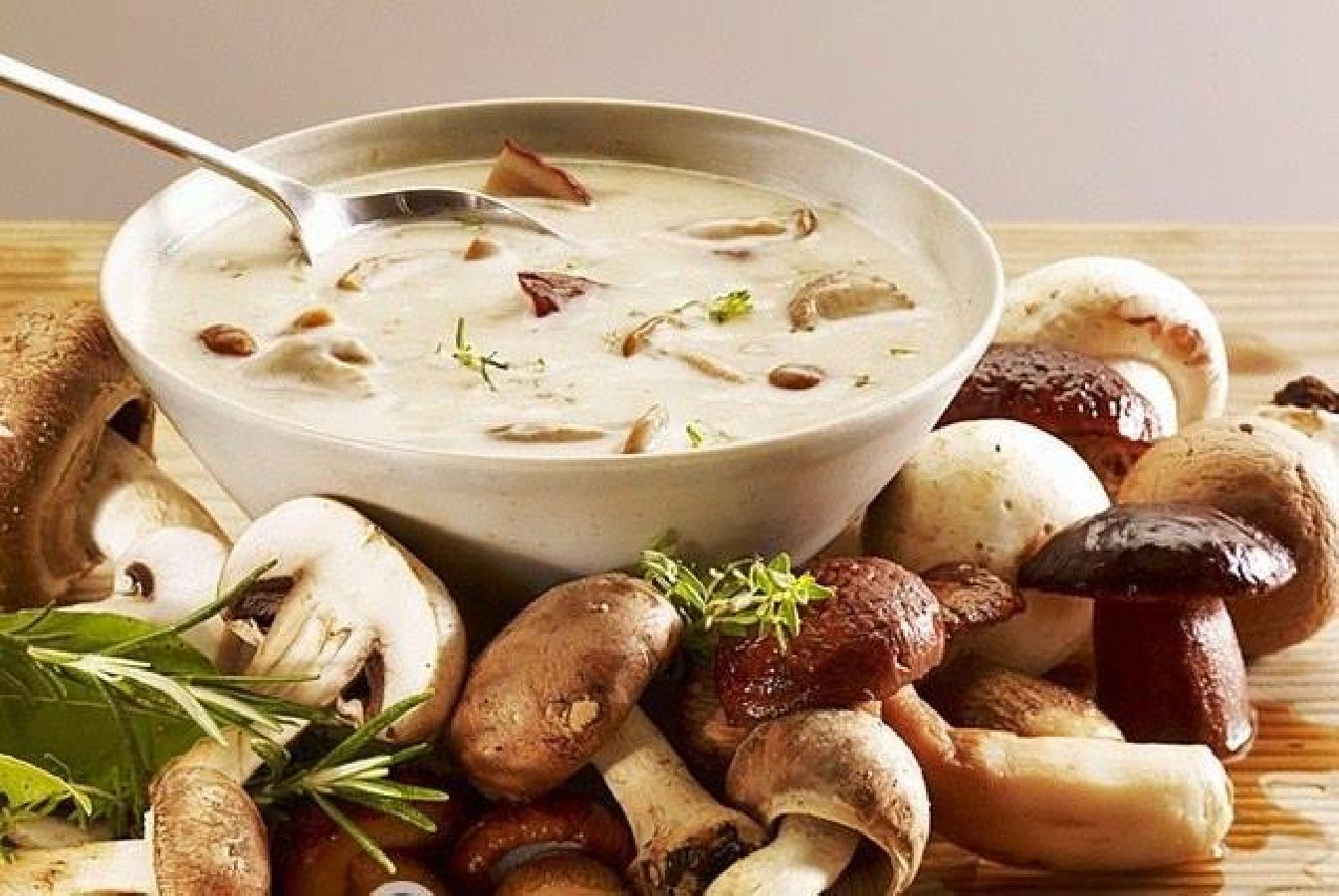 Ingredients:
1 c chopped onions
3 T vegetable oil
8 oz. sliced mushrooms
1/2 oz. dried mushrooms
1 1/2 c water
2 1/2 – 3 T flour
1 c water
1 1/2 t salt
pepper to taste
Directions:
1. Simmer dry mushrooms in 1 1/2 cups water for about 1 hour or until soft. Drain
and chop mushrooms. Reserve the liquid.
2. Saute onions in oil until golden, but not brown. Add fresh and chopped dried mushrooms and stir at medium heat for 10 minutes.
3. Sprinkle with flour and stir. After a few minutes add the reserved mushroom liquid and the remaining water.
4. Let cook gently for 5 minutes and season to taste with salt and pepper.
5. Makes about 2 1/2 cups of sauce – enough for 6 servings.
Note: The above ingredients are for fast days. On other occasions butter may be used,
and the sauce may be enriched with a few tablespoons of sour cream.
Varenyky(Pyrohy/Perohe/Pierogi)
This recipe makes about 3 dozen.
Dough for Varenyky

Ingredients:
3 c all-purpose flour(a few more cups of flour for kneading the dough and covering the uncooked Varenyky)
5 oz sour cream (and lots more for eating with the Perohe)
4 T unsalted butter
1 egg
warm water
Preparing the dough:

1. Measure out the flour and fold in the sour cream and softened butter. Mix to an even
consistency.
2. Beat the egg in a measuring cup, then add enough warm water to measure 3/4 cup total. Fold the egg measure into the dry mixture. If it remains to be sticky after a complete mixing, then add additional flour in small increments until it kneads into a soft dough.
3. Place in a deep bowl and cover with a damp cloth and let it rest for 30 min. (Enough time to make the fillings.)
Making the Varenyky
1. Once dough has rested, roll out one quarter of the dough at a time in a dusting of flour. Keep the rest of the dough covered while working on each quarter.
2. Roll to about an eighth of an inch thick. Cut out the circles. A glass with a thin rim —
three to four inches in diameter will do.
3. Separate the circles, and start to fill. Place about a teaspoon of filling in the center of the circle (while holding it in your hand) and be careful not to touch the edges. Fold it in half and pinch the edges shut to prevent any filling from falling out.
4. Flour the closed uncooked varenyk and place it on a cloth lined tray. Slightly flatten to distribute the filling evenly. Repeat until all the circles have been used up.
5. Knead all remaining dough back into the bowl. If at any time the dough becomes stiff, just let it rest a little while longer. Repeat until all the filling is used.
Note: Any remaining dough should be rolled out to about an eighth of an inch and then sliced into pieces about the size of a deck of cards. These can be cooked with the Varenyky and are delicious sautéed.
Cooking the Varenyky
1. Bring a large pot of water to boil
2. Drop several at a time into the boiling water. Cook until the varenyky float flat on the surface of the water. Usually this takes about 2 to 4 minutes depending on the size.
3. When they're done, use a large flat slotted spoon to gently lift the varenyky from the water (you don't want them to break), allowing the water to drain off.
4. My mother used to put them in a colander to begin with then moving them to a bowl with onions cooked in butter and corn oil. Once you put them in large bowl with sautéed butter and onions, gently mix together.
Note: To freeze immediately place on a rack to drain and allow to cool without just a bit
of butter. You can freeze them individually by placing on a tray of non-stick parchment/
baking paper in the freezer then once frozen putting them in a freezer-proof bag or
container. Eat as many or as few as you like.
Fillings for Varenyky

Potato Filling:

1 medium onion, chopped
¾ cup butter
3 cups potatoes, mashed
½ tsp. salt
¼ tsp. pepper
1 cup cheddar cheese
Sauté onions in butter and set aside to be added after Varenyky are cooked. Peel and skin the potatoes, then boil until soft. Mash the potatoes, add salt, pepper, and grated cheese. Mash well and set aside to cool. Cool the mixture thoroughly before placing on Varenyky. Yield about 4 dozen.
Cottage Cheese (Farmer's Cheese in the US) Filling:

1 lb Cottage Cheese (Farmer's Cheese in the US)
I egg yolk
¼ tsp. pepper
½ tsp. salt
Add egg yolk, salt, and pepper to cheese. Mix well.
Sauerkraut Filling:
1 qt.jar of sauerkraut (Polish or German )
½ tsp. salt
2 medium onions, chopped
¼ tsp. pepper
1 stick butter
Cook sauerkraut, about an hour. Drain and press out water. Sauté onions in butter until golden in color. Pour off about half the onions and butter in a dish– set aside to add on top of the Varenyky after they are cooked. Add sauerkraut, salt, and pepper. Fry for 10 minutes. Cool well before putting filling into Varenyky. Use small teaspoon to scoop filling. Yield about 4 dozen.
Prune/Plum or Cherry Filling:
1 cup prunes/ plums cherries (take out all the pits. Prunes need to be cut in halves or quarters
depending on size, cherries can be left whole just with the pit taken out)
½ cup water
½ cup sugar or Splenda to taste
Boil fruit 20 minutes. Drain and cool. Remove stones and chop finely. Add sugar. Yield, about one prune/plum per Varenyky.
Poppy Seed Filling:
1 Cup poppy seed
2 tsp. sugar
I egg yolk
Scald poppy seed. Grind finely. Add egg yolk and sugar. Mix well.
Serving Varenyky

You can serve the savory perohe with onions fried in butter and oil on top, after boiling. The next day the savory ones are fantastic fried in a bit of oil and butter, add some water to the pan initially just to get them hot all the way through.
Potato holubtsi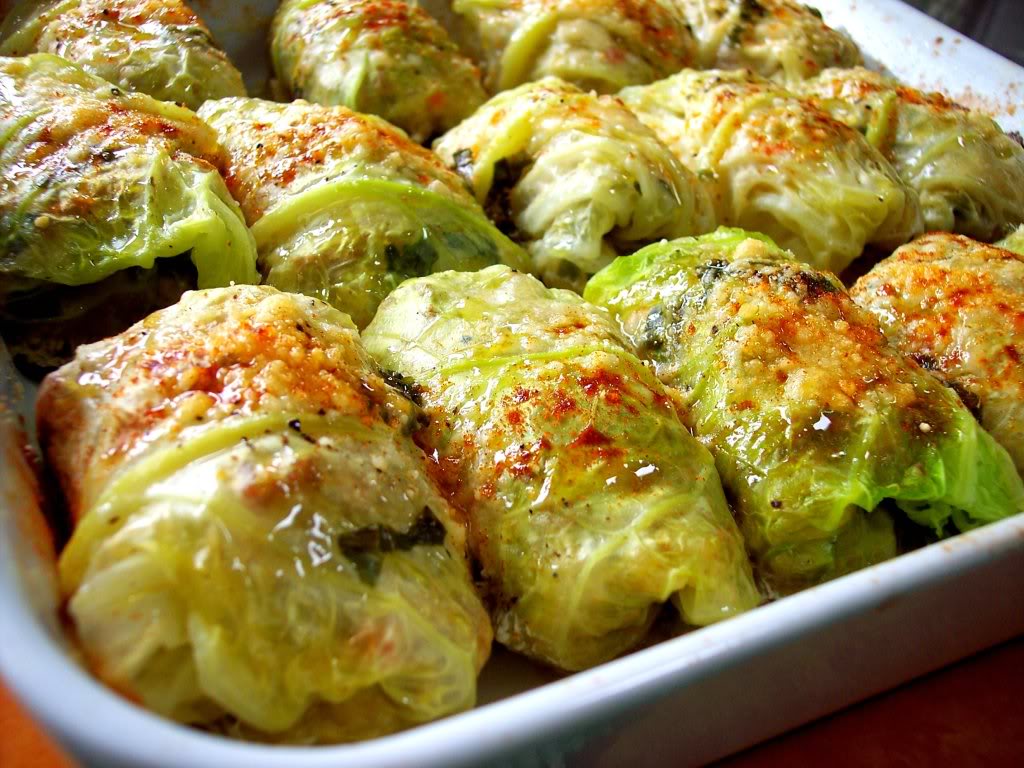 Holubtsi Ingredients:
1 large cabbage
5-6 Idaho potatoes grated on a box grater
1 large onion grated
Salt and pepper to taste
Tomato sauce or non-meat-based brothHolubtsi Directions:1. Mix potatoes and onion, and place in a rectangular pan. Raise one side to drain the liquid; do not squeeze!
2. Blanch the cabbage. Separate the large leaves; save the small inner core and roughly chop it.
3. Place the chopped cabbage at the bottom of the tilted pan with the grated potatoes, but do not incorporate into the potato mixture. The cabbage is there only to absorb the water, but not the starch. Let it all sit for a couple of minutes; if you strain off the remaining liquid, try and keep as much starch as possible.
4. Line the bottom of an enameled dutch oven or high sided skillet with aluminum foil.
5. Assemble your holubtsi, stuffing the large cabbage leaves with the potato onion mixture. Discard the chopped cabbage.
6. Place the holubtsi in the cooking vessel, packing them tightly in layers.Once you are done packing them in, press gently to extract any remaining liquid and drain it off.
7. Add enough veggie broth or tomato sauce to cover completely. Cover the pot and
cook on the stove top on low for 2-3 hrs, until cabbage is tender. DO NOT bake, this will dry them out.
You can serve these with any sort of sauce you like, but a mushroom pidlyvka (sauce)
goes well with these. Recipe follows:

Mushroom Pidlyvka Ingredients:

1 lb. mushrooms chopped, white button or a mixture of wild flour water/veggie broth garlic, minced
1 medium onion, chopped dill/parsley chopped (optional)
1 T vinegar oil
Salt and pepper to tasteMushroom Pidlyvka Directions:

1. Place the chopped mushrooms in a sauce pan with a tablespoon of water/broth on low heat.
2. Add vinegar (to prevent mushrooms from turning brown);cover & cook until mushroom release their juice.
3. Slowly toast the flour until light brown (blond) without fat.
4. Sauté onion until soft, not browned.
5. Add the flour to mushrooms and stir; make sure there are no lumps.
6. Add liquid or flour to make the proper consistency
7. Add sautéed onion, garlic and herbs mix; let rest.
Oseledets(Marinated herring)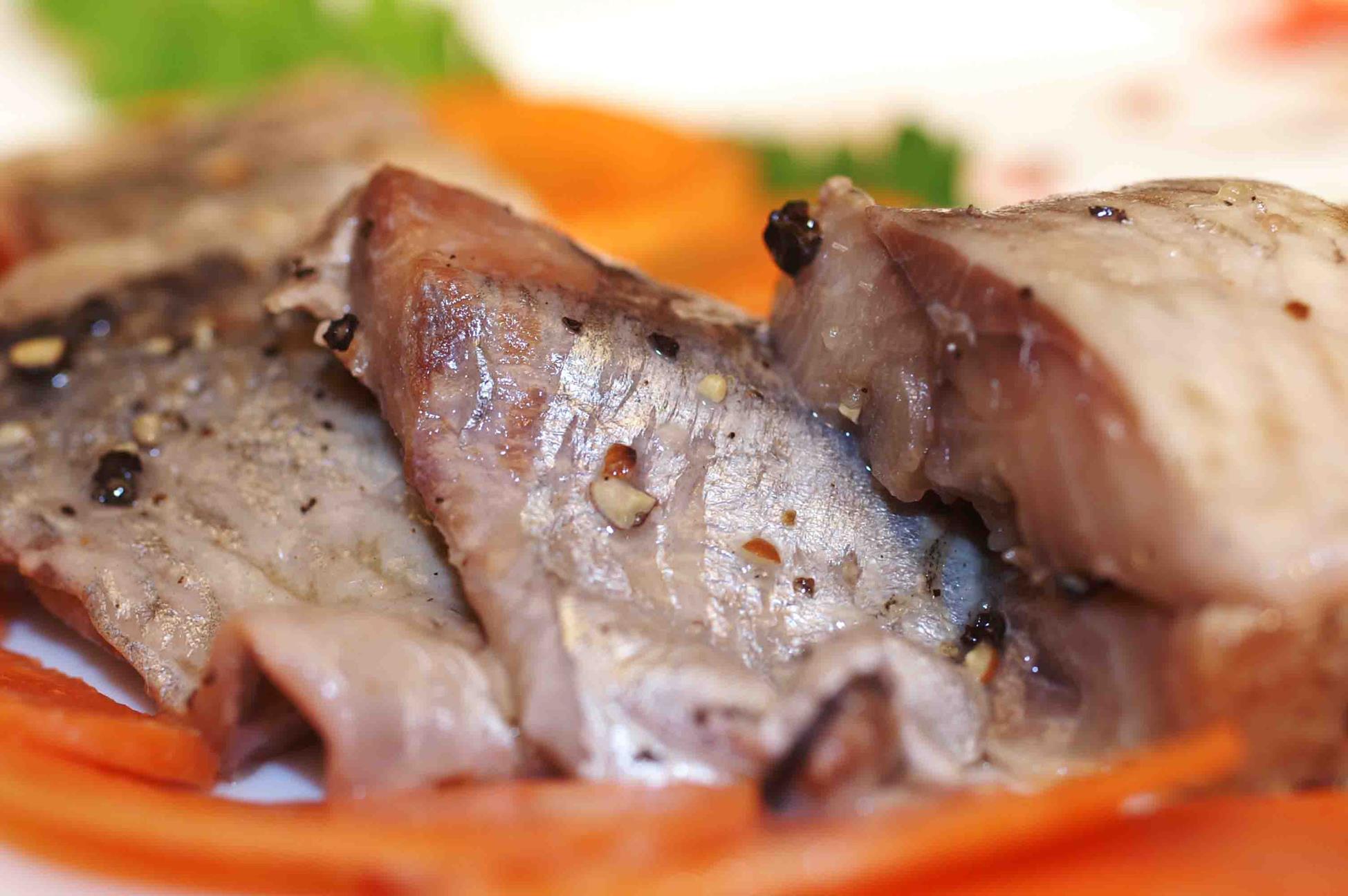 Ingredients:
6 herring fillets (skin removed)
1 liter of water
2 T salt
2 T sugar
10 peppercorns
2 allspice
¼ t coriander
2 bay leaves
100 ml horilka (optional)Directions:

1. Boil the water 2 minutes, turn off the flame
and add the rest of the ingredients.
2. Mix well and let cool.
3. Pour over the fillets when COLD (preferably
use a glass pot), cover and keep in the fridge for 4-5 days. Make sure the fillets are
fully covered by the marinade.
4. Drain the marinade after 4-5 days and serve with onion and some oil drizzled on
top.Notes:

1. I usually put the drained fillets in a jar and fill it up with oil – I keep it like that in the
fridge 3 more days. Of course, you can prepare fewer fillets but keep the quantities in
the marinade the same.
2. You may add some vinegar to the marinade if you like but no more than 1 teaspoon.
3. You may add 100 ml of horilka (vodka) to the marinade to speed up the process–it
will be ready in 2 days.
Marinated mushrooms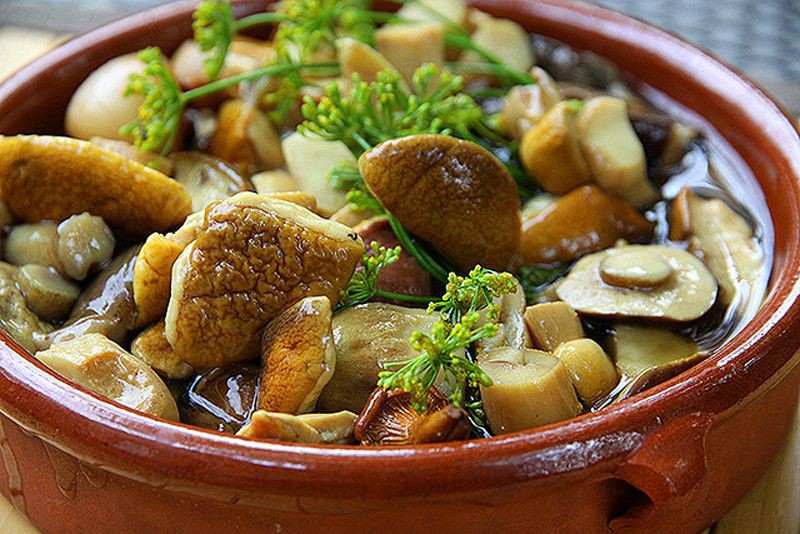 Ingredients:
mushrooms (button white, wild, or cremini)
yellow onion, thinly sliced
vinegar
water
salt
6 peppercorns
bay leaf
1 t sugar
oilDirections:1. I use little wild mushrooms or button white or cremini: wash them and set them
aside.
2. Slice very thinly a yellow onion.
3. Measure 2 parts vinegar to one part water in a pot to boil, add a little salt, about 6
peppercorns, a bay leaf and one teaspoon of sugar. Bring to a boil and let cool.
4. In a jar arrange in layers your onions with your mushrooms.
5. Pour in your vinegar mix and top it off with a little oil (your choice). I keep it in the fridge for 24 hours before serving.
Braised Cabbage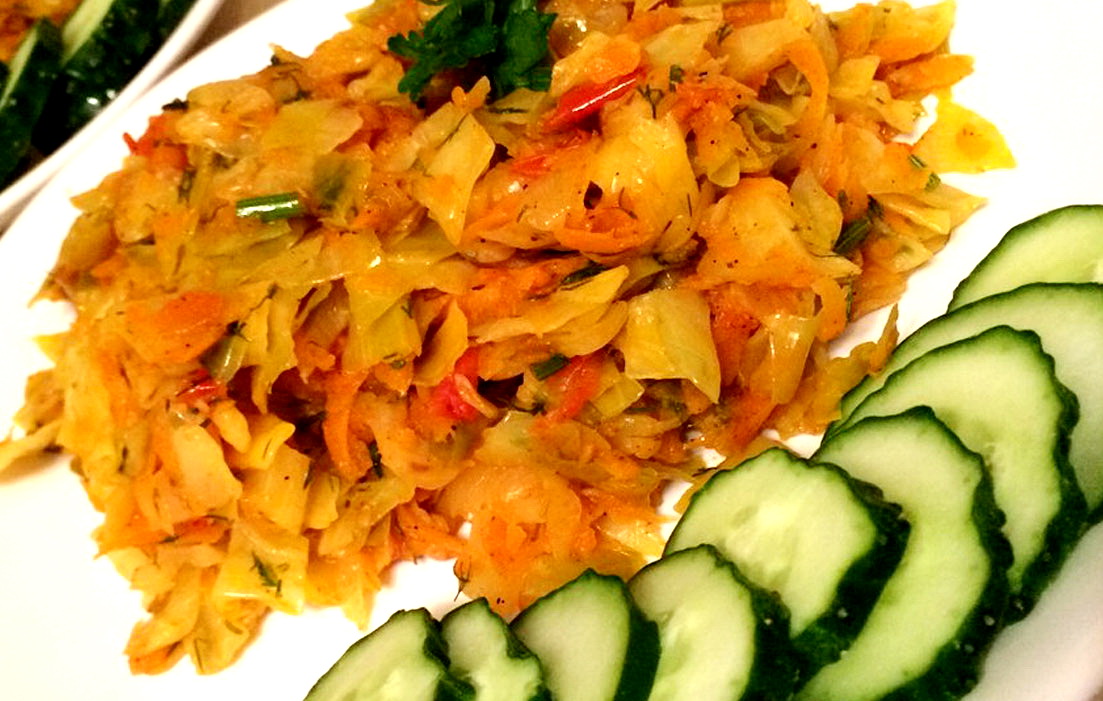 Ingredients:
1 medium sized cabbage
1 cup of water
3 cups of sour kraut (packed)
2 medium onions
2 teaspoons of salt
1 teaspoon of black pepper
2 tbsp vinegar
1½ tbsp sugar
5 tbsp ketchup
oil (I used about a total of 13 tbsp throughout the whole cooking period)Directions:

1. Cut cabbage lengthwise in half with core intact.
2. Finely shred cabbage into a large pot (preferably a non stick pot).
3. Place pot on a stove and turn stove on to medium-high heat.
4. When you start to hear the cabbage slightly sizzling add 1 cup of water and cover with lid slightly tilted for steam to escape. Cook the cabbage in water for 15 -20 minutes until water has almost evaporated.
5. When water has reduced in size and is almost gone add 5 tbsp of oil and stir to combine. Then add diced onions, 2 teaspoons of salt, 1 teaspoon of black pepper, 2 tbsp vinegar, 1½ tbsp sugar, and 5 tbsp of ketchup.
6. Reduce heat to med-low and continuing cooking on low heat for about an hour and a half, stirring every 10-15 minutes.
7. Add a few tablespoons of oil when needed throughout the rest of the cooking period and add more salt and pepper if needed. (I ended up adding an additional 8 tbsp of oil for the rest of the cooking process.)
8. Cabbage should have darkened in color by the end of the cooking time.
Uzvar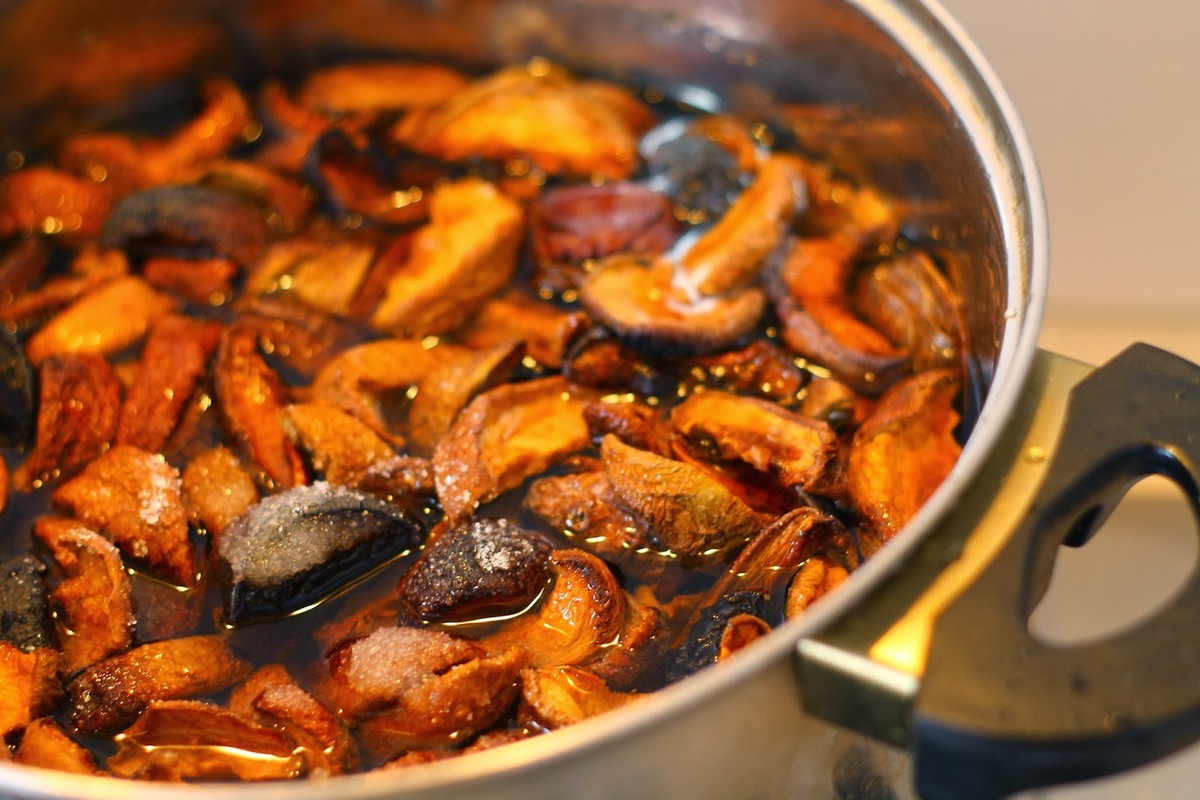 Uzvar, according to our ancestors, was the drink of the god (kutia being the food of the gods). It is one of two "mandatory" dishes on Sviat Vechir–uzvar and kutia are obriadovi (ritual dishes), the others can vary and are Lenten dishes (and include fish). How do you make uzvar? Very simply–you need dried fruit and water. In Ukraine, the fruit can often be
dried over a fire or in a peech (wood fired stove), so it can be dusty, dirty and smoky. The fruit should be rinsed off well before using. In NA, it isn't, and can probably be used straight from the bag or box. Traditional fruits for uzvar include pears, apples, plums and cherries. You should use about 100 gm of dried fruit for 1 liter of water.  Place the fruit and water in a pot, and bring to a boil. Turn off the flame, and let the uzvar cool. You will be able to drink it in about half an hour; longer if you want it cooler. Some people add a stick of cinnamon, or some orange or lemon peel; these are modern variations, but do add flavor.
Sweetness should be adjusted to taste; Honey (or, less traditionally, sugar) can be added to sweeten the uzvar.
The uzvar can be served with the fruit in or out.
Except of the basic dishes, such as kutya, borschch, dumplings, fish and uvar there are more recipes of lean dishes that will help you to diversify the festive table.
Buckwheat pancakes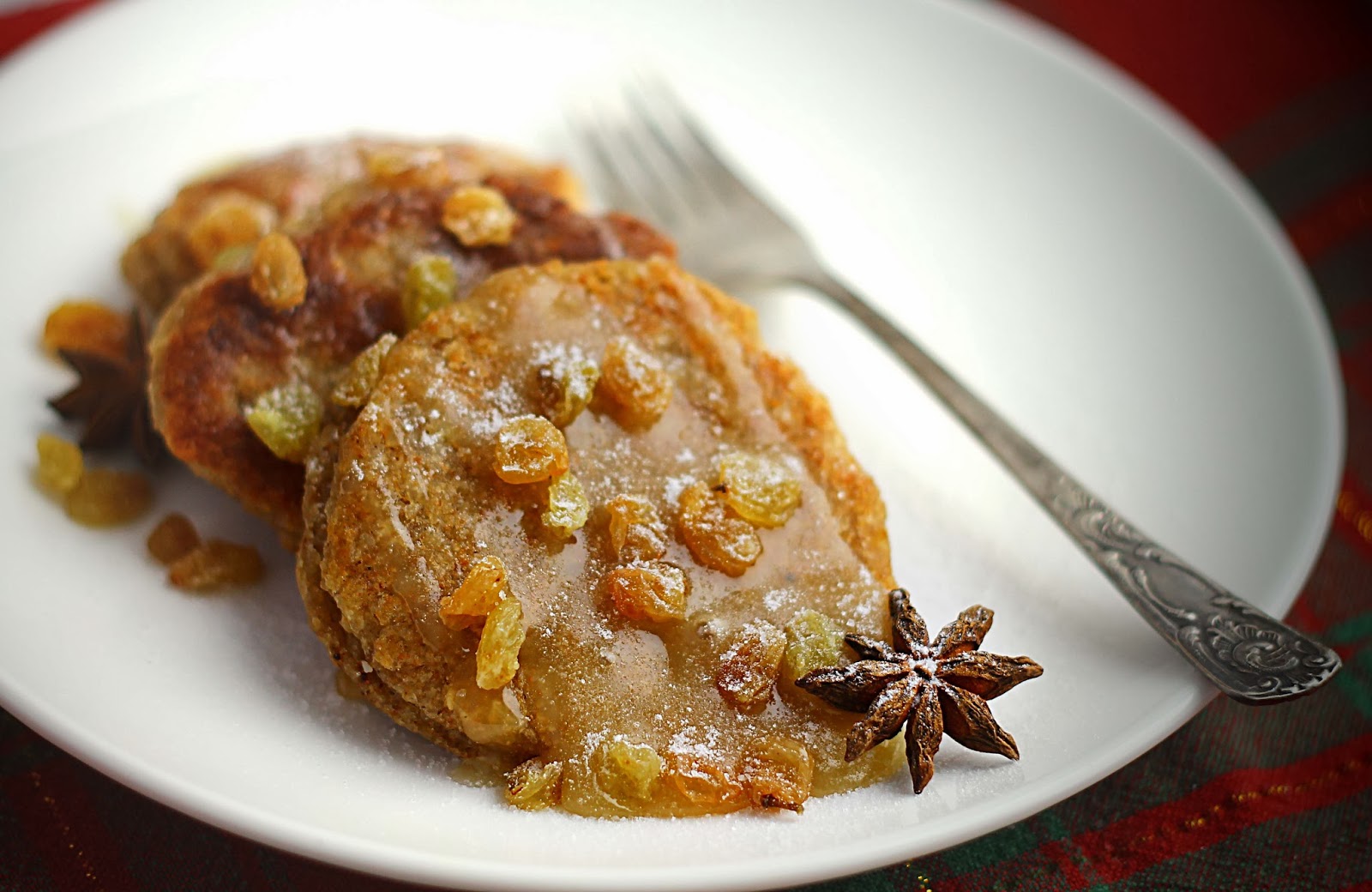 Ingredients:
1 glass of wheat flour
1 glass of buckwheat flour
3 yolks
2 whites of the egg
2 glasses of milk
20 g yeast
2 tbsp cooking butter
1 tbsp sugar
1 tsp salt
3 tbsp olive oil
Cooking
Preheat 1 glass of milk. Combine yeast, sifted wheat flour and 1/2 glass of sifted buckwheat flour. Mix the ingredients with milk. Knead dough and place it in a pan. Cover the pan with a towel and leave the dough for 1 hour. Then add 1 glass of warm milk, salt, sugar, yolks, cooking butter and remained buckwheat flour. Knead the dough for the second time and leave it for 1,5 hour.
Froth the whites of the egg. Add them to the prepared dough and stir everything carefully. Fry the pancakes on both sides and serve them with sour cream or honey.
Cabbage with beans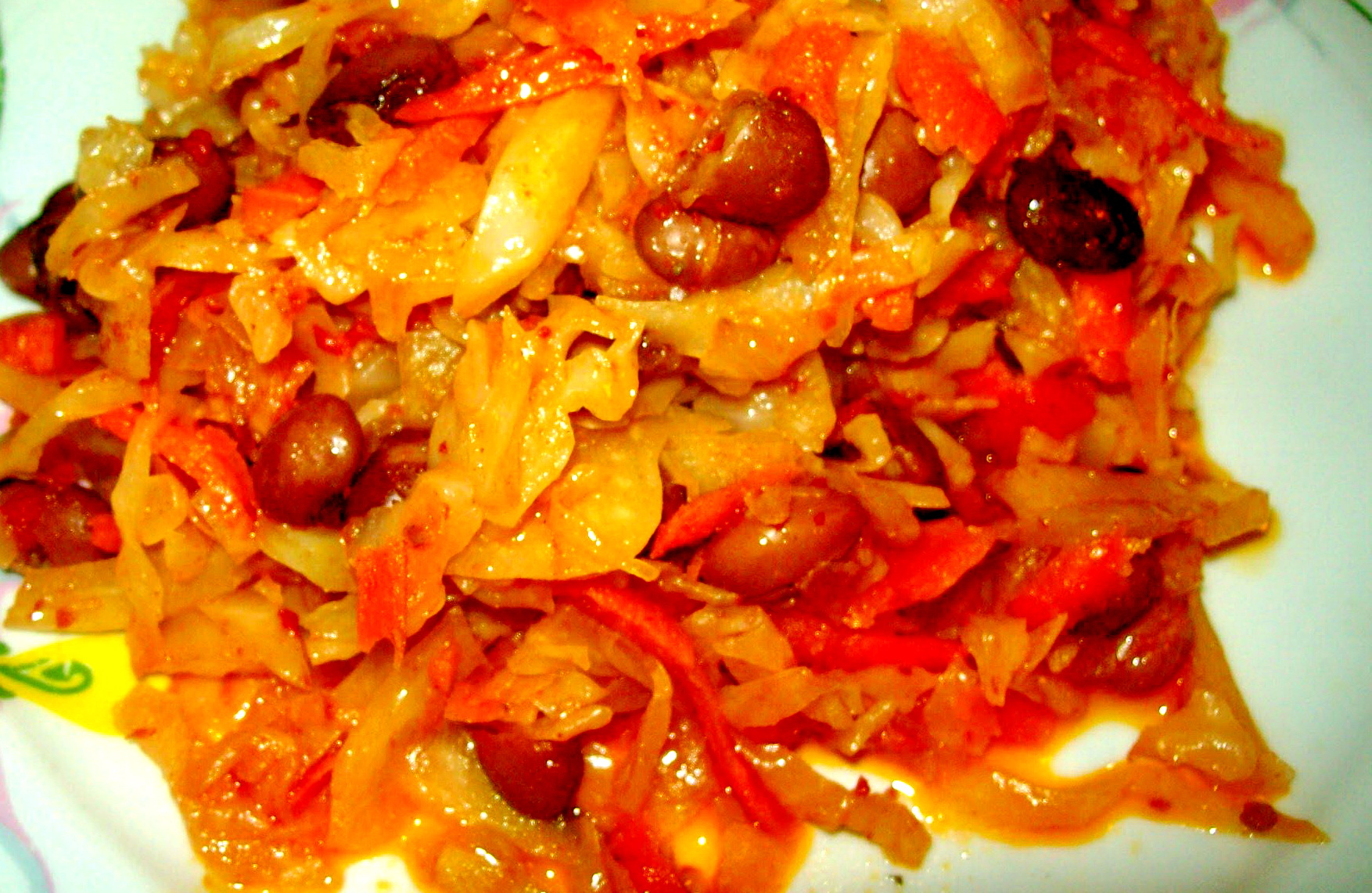 Ingridients
Bean
fermented cabbage
onion
carrot
garlic
tomato juice
oil
flour
spices
Cooking
Boil a glass of beans. Finely chop an onion, grate carrots. Pour oil into the frying pan, put onion and carrots. Then fry it a little bit, and after pour 2 tablespoons of flour and mix well. Fill up your dish with brewing from the beans and mix it again. Add cabbage and beans. Mix and pour tomato juice. Add a salt and stew, immediately stirring.
Machanka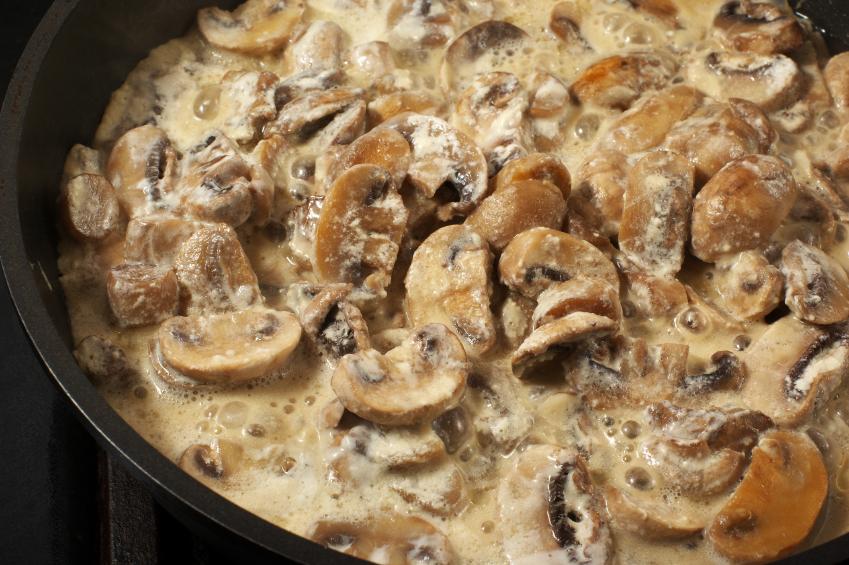 Machanka – is a Ukrainian national dish which is made from cheese and sour cream. It can be served as a sauce to a main dish.
Ingredients:

400 g of cheese
2 glasses of sour cream
spring onion
dill
salt – to taste
Cooking
Wash spring onion and dill. Cut them finely. Combine cheese, sour cream, spring onion, dill, and salt. Mix all ingredients thoroughly and serve.
Banosh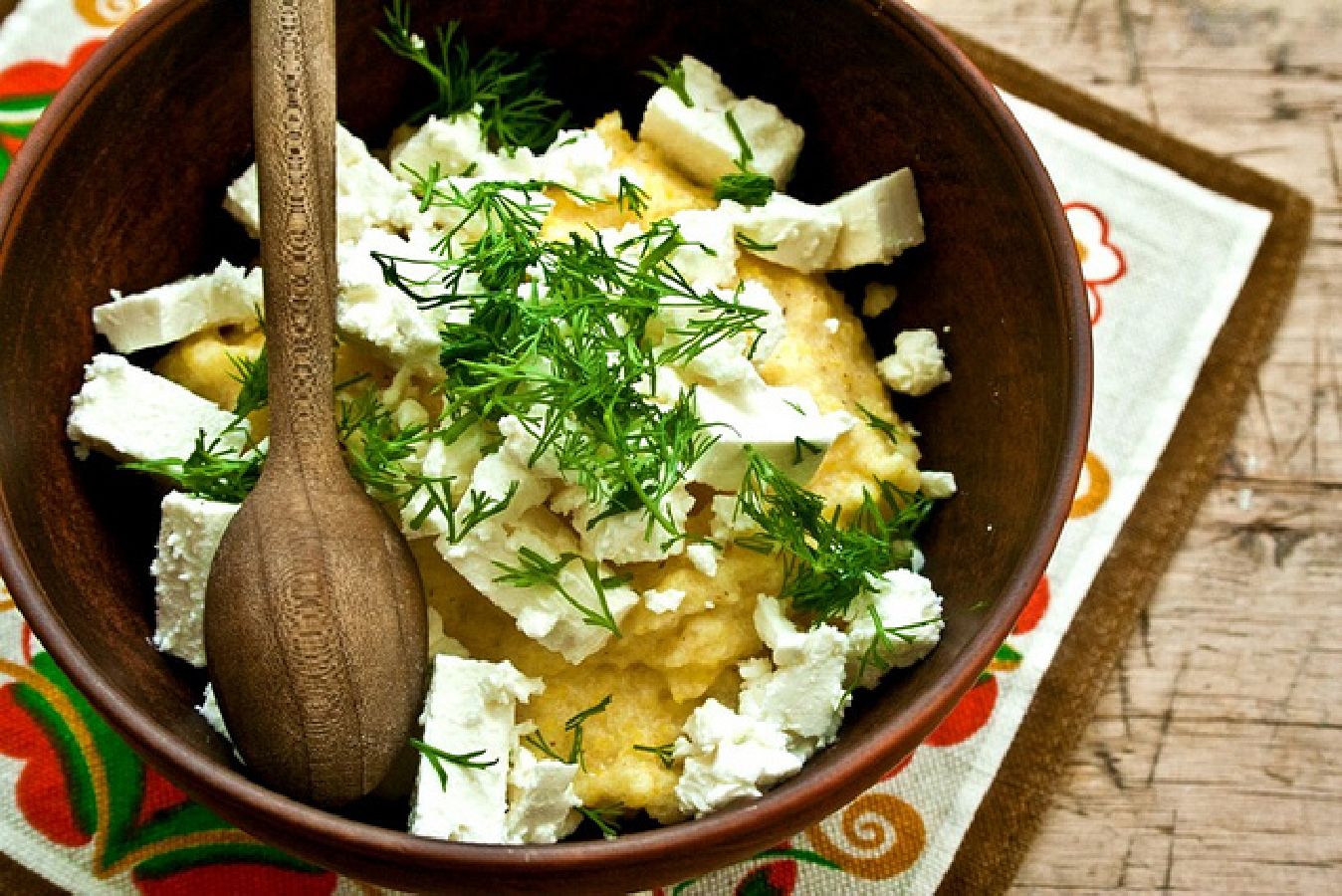 Banosh is one of the most popular Hutsul dishes in Ukraine. By tradition men usually cooked it in the open air. Banosh is considered to be one of the variants of mamaliga.
The tastiest banosh cook in Carpathians. Historically the main components of banosh were sour cream and brynza. The sour cream was kept 3 days in a cellar before cooking.
However you can cook not less tasty banosh at home too. Follow the recipe to make yummy maize grits with salty cheese.
Ingredients:
300 g maize grits
200 g brynza
400 g sour cream
900 ml water
Cooking          
Bring water to boil and reduce the fire. Add maize grits stirring them continuously. Be careful the water will gurgle. Then add sour cream and stir the dish for 20-30 minutes. Turn off the fire, cover the lid and leave banosh for 5 minutes.
Crush brynza and top the cooked dish with it.
Shuhy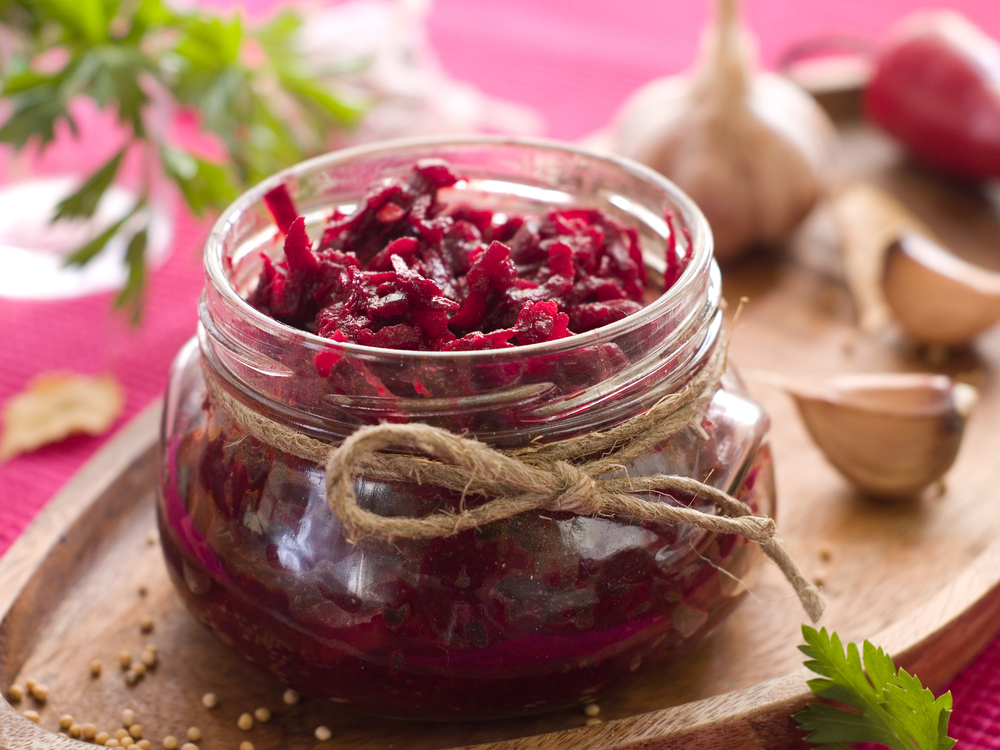 Ingridients
Beets – 500 g
dry mushrooms 100 g,
garlic – 20 g
oil – 50 g
vinegar – 20 g
Cooking
Wash the beets, boil until it will be ready, clean it and cut into straw. Boil the mushrooms, mix it with chopped beets, fill with peeled garlic, oil and vinegar.
White bean salad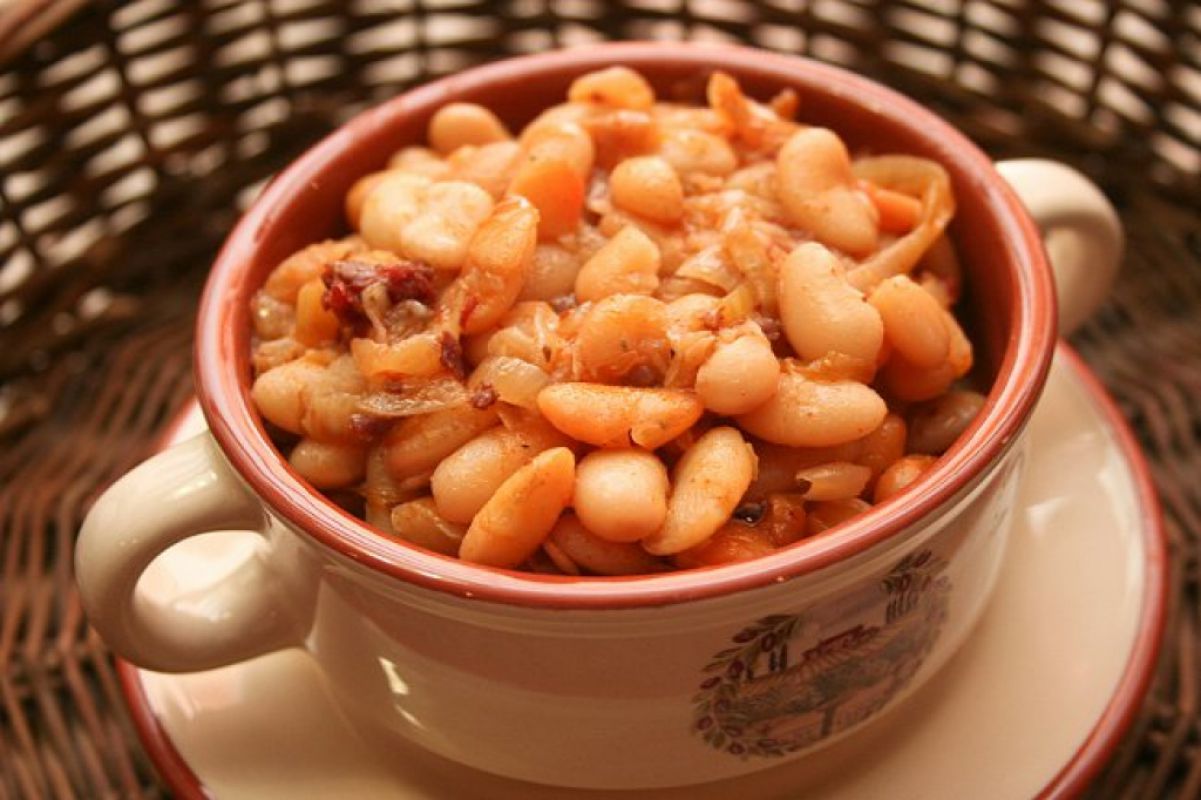 Ingredients
300 g white beans,
3 tablespoons of vegetable oil
1 onion
1 sweet Bulgarian pepper
4 pieces of garlic
salt
tomato paste
vinegar to taste.
Cooking
Boil in a small amount of water (until it will be soft ) beans, prepared and soaked for the night. After pour to warm beans vegetable oil. Add chopped garlic with salt, grated onion, finely chopped pepper, tomato paste and vinegar to taste.
Pies of peas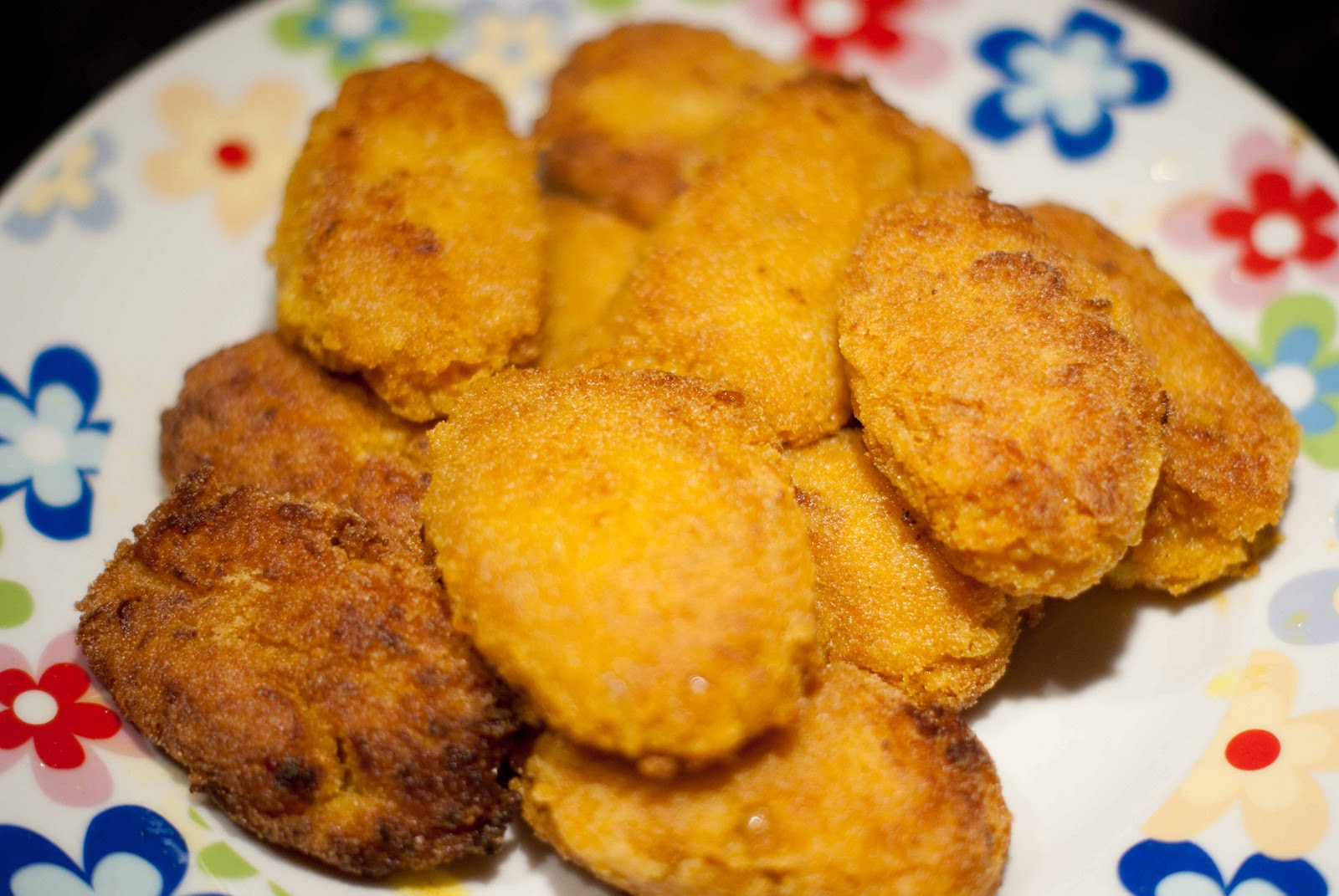 Ingredients:
2 cups of peas
4 tablespoons of manna groats
2,5 tablespoons. spoons of oil
2 eggs
3 tablespoons of crackers
1 onion
Cooking
Dip the peas at night, boil and wipe it through the sieve. Mix it with dense manna porridge. Add the fried onion, skip it through the meat grinder.
Fill it with raw eggs, salt, pepper. Make chops, bake in breadcrumbs and fry until the golden brown.
Before serving, pour it with oil.
Hot sbiten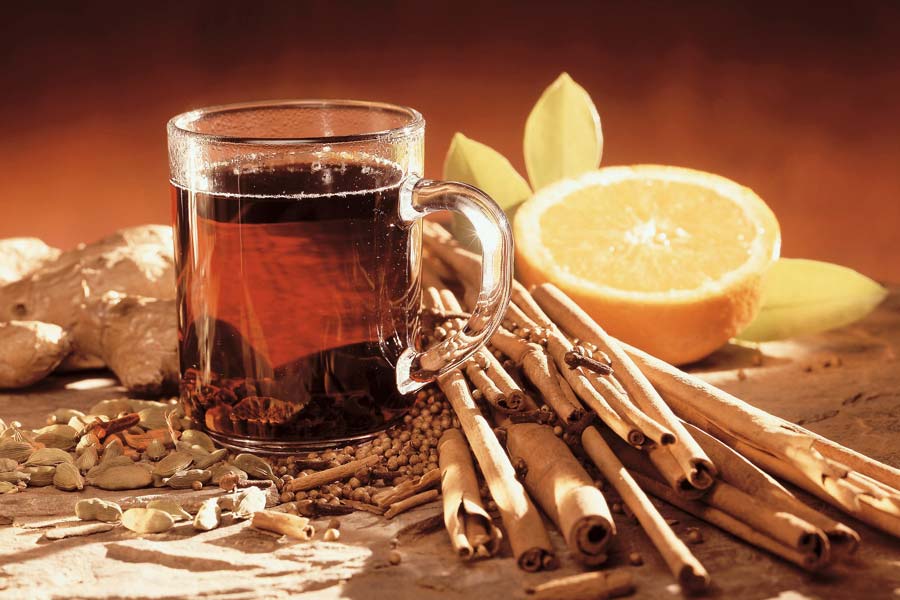 Cooking
In 1 liter of water, dissolve 150 g of sugar and honey. Add spices (cloves, cinnamon, ginger). Boil for 5-10 minutes, removing a foam. After 30 minutes, strain a drink. Recommended to drink hot.
Kissel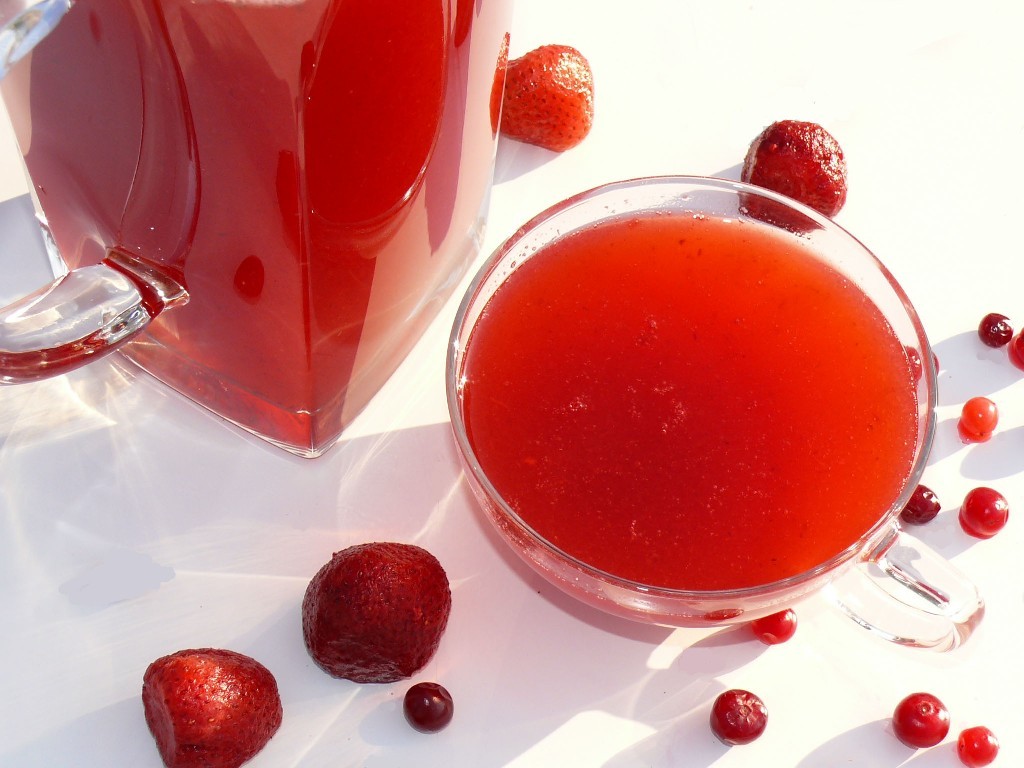 Cooking
You need a 1 liter of liquid on 35-50 grams of potato starch. You should strain off berries from currant, raspberry or strawberry jam. Then make a compote from the liquid part. After you should bring it to a boil and add potato starch by small portions, stirring it constantly. To the bottom of the dish, put the berries from the jam and pour it with barely cooled kissel.  In the end sprinkle the surface with sugar.
We wish delicious and peaceful Christmas Eve and Merry Christmas for you!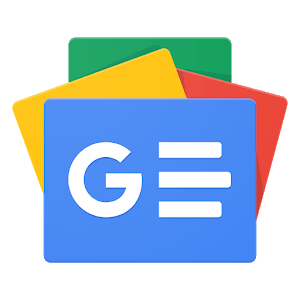 Додавайте "Україна Неймовірна" у свої джерела Google Новини